Sign up for Monthly Giving via Paypal
Choose amount below - add any message to IBBR then click Subscribe - you will be directed to PayPal to complete the transaction and your credit card will be billed each month for the amount you selected.
Funding & Contributions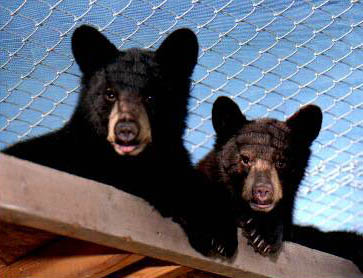 The Idaho Black Bear Rehab program is licensed by the Idaho Department of Fish and Game. However, we do not receive funding from Fish & Game or any government agency. State wildlife agencies do not have the funds available in their budgets to pay the expenses of caring for orphaned and injured wildlife. As with most wildlife rehabilitators in this country, we must find our own funding.
IBBR depends on public and community support for funding. Founder, Sally Maughan also works a full time job to ensure no orphaned cubs are turned away. The World Society for the Protection of Animals (WSPA) also provides funding and support to IBBR each year. Monetary contributions are greatly appreciated in helping us save orphaned cubs each year.
Our budget averaged $32,000 to $35,00 until 2004. As more bears were brought into the rehab program the financial demands increased. During 2004/2005 we saved forty two bears. In 2007 we saved fifty three bears which brought the IBBR budget close to $43,000. Thirty two of those bears remained with us until their release in June of 2008. Additional project expenses will add another $16,000. All donations no matter how small are very much appreciated and will help us save more bears. IBBR is a not-for-profit 501(c)(3) organization.
Donor Development and Engagement
As IBBR continues to affect positive change in the lives of individual bears and world-wide bear populations, we're excited to announce the development of additional programs that will help to support the direct rehab work of IBBR, assist more bear rehabilitators around the world, educate the public about bear rehab and the wild environment of bears, and make a lasting positive impact on programs that oversee bear rehabilitation and release. 2011 is the beginning of increasing the engagement of both public and private sources in supporting these goals. We're kicking off with the Bearly Spring R&R which will focus on IBBR's current cubs getting ready for their release to freedom in June 2011. You can keep updated by visiting our Facebook Event page at Idaho Black Bear Rehab on Facebook.
To oversee the Donor Development and Engagement program, I am so pleased to announce the appointment of IBBR board member Valerie LeBoeuf as our new fund-raising leader. Her title will be Administrator of Donor Development and Engagement. Valerie has worked side by side with me to move IBBR into the future, help save and protect orphaned cubs, address the welfare of orphaned cubs against the many threats that are not in their best interests, and handles education seminars along with Christina Brearley. As if that isn't enough to keep her busy, she is also our Media Specialist helping me respond to the media inquiries and is an active part of the IBBR Facebook team managing the IBBR Facebook page.
Sally Maughan
Found / President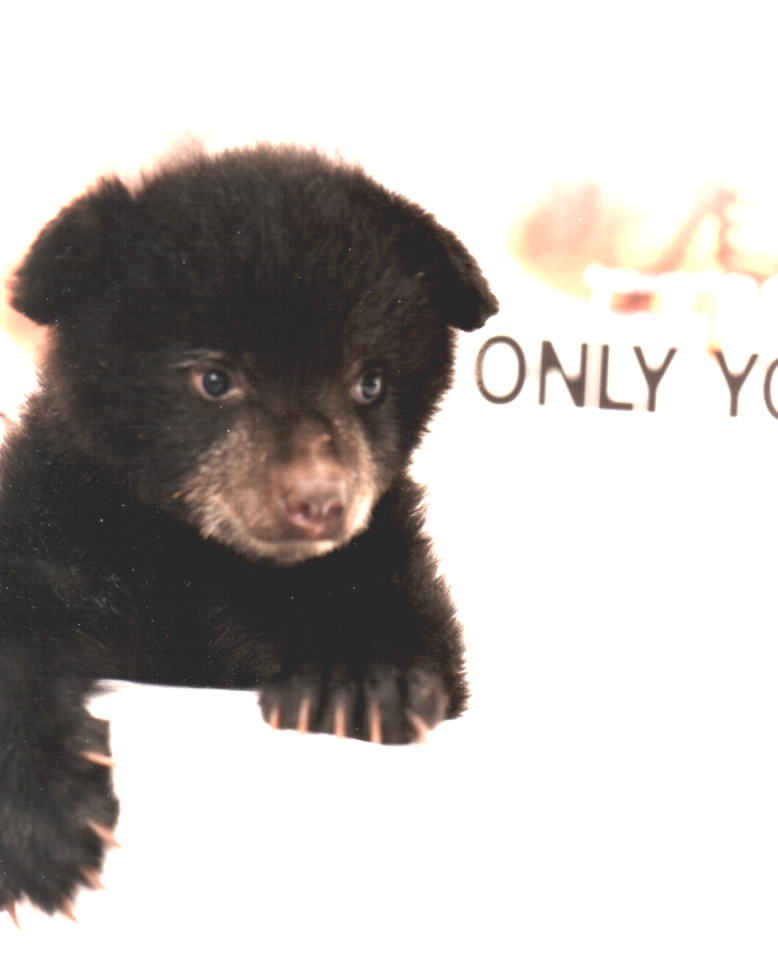 You can contribute to the care of orphaned cubs in many ways:
Send your check, money order, postal order, or cashiers check to:
Idaho Black Bear Rehab, Inc.
6097 Arney Lane
Garden City, Idaho 83714
U.S.A.


Credit Card Checks
You can also use the checks sometimes sent to you with your credit card statement. These checks are handled by the recipient as checks, but funds come from your credit card


PayPal (for checks or credit cards) -
You can access this from the IBBR website or through your own PayPal account if you have one. At the request of several supporters, we are currently working with PayPal to set up an automatic monthly donation for those wishing to schedule a monthly donation.


AmazonSmile Foundation -
IBBR is registered with AmazonSmile. The AmazonSmile Foundation is a private foundation created by Amazon to administer the program which donates to the charity of your choice. Simply go to the site, select Idaho Black Bear Rehab as your charity if it's not already showing there. When you shop on Idaho Black Bear Rehab at AmazonSmile, the AmazonSmile Foundation will donate 0.5% of price of eligible purchases to IBBR. I have found every item I wanted on the Amazon site was also on the AmazonSmile site so give it a try and help IBBR earn donations from The AmazonSmile Foundation for purchases you made. Thank you for taking this opportunity to support the orphaned cubs.


Fred Meyer Community Rewards -
IBBR is also registered with Fred Meyer Community Rewards. Fred Meyer is donating $2.5 million per year to non-profits in Alaska, Idaho, Oregon, and Washington. (Fred Meyer dog food is the food of choice for the bears too). All you do is sign up for the Community Rewards program by linking your Fred Meyer Rewards Card to IBBR at www.fredmeyer.com/communityrewards . You can search for IBBR by name or by our non-profit number 89856. Every time you shop and use your Rewards Card, you are helping IBBR earn a donation for the bears. You will still earn your Rewards Points, Fuel Points, and Rebates just as you did before. If you don't have a Rewards Card, ask the Customer Service Desk at any Fred Meyer store.


eBay's Giving Works Program -
The program allows you to donate to IBBR. Just type IBBR in the search box on the left.


Amex Members Give Program also allows you to donate to IBBR.


Stock Donations - IBBR has established an account with Edward Jones. If you wish to donate stocks, please contact us at info@bearrehab.org.


Hewlett-Packard Employee Match Program - IBBR is registered with HP as a non-profit charity.


GE Foundation Employee Match Program - IBBR is registered with GE Foundation as a non-profit charity.


Microsoft Employee Giving Program - IBBR is Microsoft Employee Giving Program as a non-profit charity. Use the online Employee Giving Tool at http://give. All US based Microsoft employee who have been employed full time for at least 6 months are eligible to make donations through the employee giving programs and have their gifts matched by Microsoft. Gifts must have been made by the employee within the last 12 months in order to qualify for a matching gift. Microsoft will match donations of cash, person checks, credit cards, stock, or Microsoft products (software, hardware). Contributions by eligible employees must be made as personal gifts of $25 or more, and the contributions must be actually paid, not merely pledged before they are matched. Matching gift requests which are less than $25 will be returned to the employee.
Employee Match Programs:
If your company has a match program and you would like to donate to IBBR via the match program, please ask them to contact IBBR at info@bearrehab.org. We will provide them with the information needed to register as one of their employee match charities.
Memorial Donations:
Many supporters have asked about donations in memory of their friends, family, or pets. Please send us an e-mail at info@bearrehab.org and put in the subject line: Memorial donations for "name of the person or pet."
All donors need to do regardless of the donation method is include a note to tell us the donation is in memory of that name. IBBR will send each donor a special thank you letter acknowledging the memorial donation and a picture of the bears. We will also send a picture of the bears and the names of donors who sent a memorial donation to the person who asked us to set up the memorial.
IBBR IS GRATEFUL FOR ALL DONATIONS NO MATTER HOW SMALL
Your gift specifically, and the overall support of people like you are what make it possible for us to expand and enrich the services we provide orphaned cubs. It is our pleasure to send you an update letter, tax receipt, and a picture of the bears as a small way of saying thank you and perhaps bringing a smile to your face. Aside from the frame, the pictures are all done in-house as a labor of love. Most people enjoy receiving the pictures while a few tell us to save the paper & postage. We certainly don't want to add to the unwelcome mail that often fills the mailboxes. If you prefer not to receive the thank you mailing, please let us know that with your donation and we will respect your wishes.
Saving each and every cub like the one below means everything to us and to each bear. How do you say no to a bear in need - IBBR hopes never to face that situation despite the difficult economy. Some time ago a friend shared the Starfish Story with us. It is so compelling we wanted to share it with everyone. Whether it's a starfish or a bear, the message is clear. Each of us can make a difference, even one starfish or one bear at a time.
Loren Eiseley was a anthropologist who wrote extensively. He was the 'wise man' in the story, and he was walking along a beach after a storm and encountered the fellow throwing the starfish back.
The Starfish Story
by Loren Eiseley (1907-1977)
Once upon a time, there was a wise man who used to go to the ocean to do his writing. He had a habit of walking on the beach before he began his work.
One day, as he was walking along the shore, he looked down the beach and saw a human figure moving like a dancer. He smiled to himself at the thought of someone who would dance to the day, and so, he walked faster to catch up.
As he got closer, he noticed that the figure was that of a young man, and that what he was doing was not dancing at all. The young man was reaching down to the shore, picking up small objects, and throwing them into the ocean.
He came closer still and called out "Good morning! May I ask what it is that you are doing?"
The young man paused, looked up, and replied "Throwing starfish into the ocean."
"I must ask, then, why are you throwing starfish into the ocean?" asked the somewhat startled wise man.
To this, the young man replied, "The sun is up and the tide is going out. If I don't throw them in, they'll die."
Upon hearing this, the wise man commented, "But, young man, do you not realize that there are miles and miles of beach and there are starfish all along every mile? You can't possibly make a difference!"
At this, the young man bent down, picked up yet another starfish, and threw it into the ocean. As it met the water, he said, "It made a difference for that one."
Thank you for your support and encouragement to help IBBR continue this important work. It certainly makes a difference to cubs like this one in a life or death situation.