SURVIVAL CON 2013
There is a very special event coming up in April 2013 in which David and Paul Michael Glaser will take part. It should be an awesome weekend so check out the website info below. IBBR would like to send a couple of bears with Sally as their escort. David would no doubt enjoy that, but they would be far too disruptive. If you are able to buy a ticket and be there, please send us pictures and write a brief write-up for all of us that can't make it. We'll put it on our website & Facebook.
Here's the link to the specific website for the event - SurCon 2013 and also a link to the latest YouTube promo - Starsky and Hutch Reunion 2013.
DAVID SOUL DONATES BOOK PROCEEDS TO IBBR
For those who already know (and those who don't), David has been a supporter of IBBR since he first visited here and went on a release with us. He personally carried Pele to the den and what a wonderful trip it was. We so enjoyed having him visit IBBR and as some of you know from his page on our website, David's music played a big part in my documenting the rehab process. He also worked with us on a video set to the music of "Simple Life" and we are still working on the second half of that video.
Recently David authorized a book titled "Picturing David Soul" which is a collection of pictures from his career as a singer and in TV, movies, and stage. David has designated the proceeds of the book to be split between IBBR & The Animals Voice. You can find out more information on buying the book on David Soul Fans Website. It's a great book so get your own copy & help both organizations!
DAVID SOUL AND THE IDAHO BLACK BEAR REHAB PROGRAM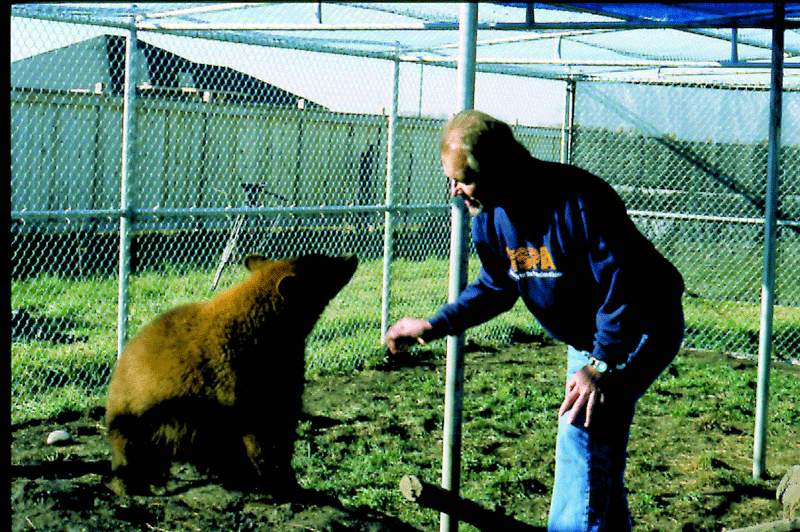 When I first heard about the work that Sally Maughan does to give orphan cubs a second shot at a life of freedom in the wild, I didn't dream that I would actually get the chance to meet her and see for myself the wonderful work that she is doing.
I joined Sally in Idaho to see how the cubs were coming along and accompany them on their journey back to freedom. It was wonderful to take part, and have the opportunity to see Whispa and Pele snuggled up together back in their rightful place in the wilds of Idaho. I feel very privileged to have been part of such an incredibly eye-opening experience.
The success of this remarkable project is really down to Sally's incredible commitment to rehabilitating cubs that come into her care year after year - and to the kind support of animal lovers like you.
By supporting this project, you have ensured that Whispa and the rest of Sally's charges have a lifetime ahead of them where they belong - in the wild.
Thank you,
DAVID SOUL


---
By Sally Maughan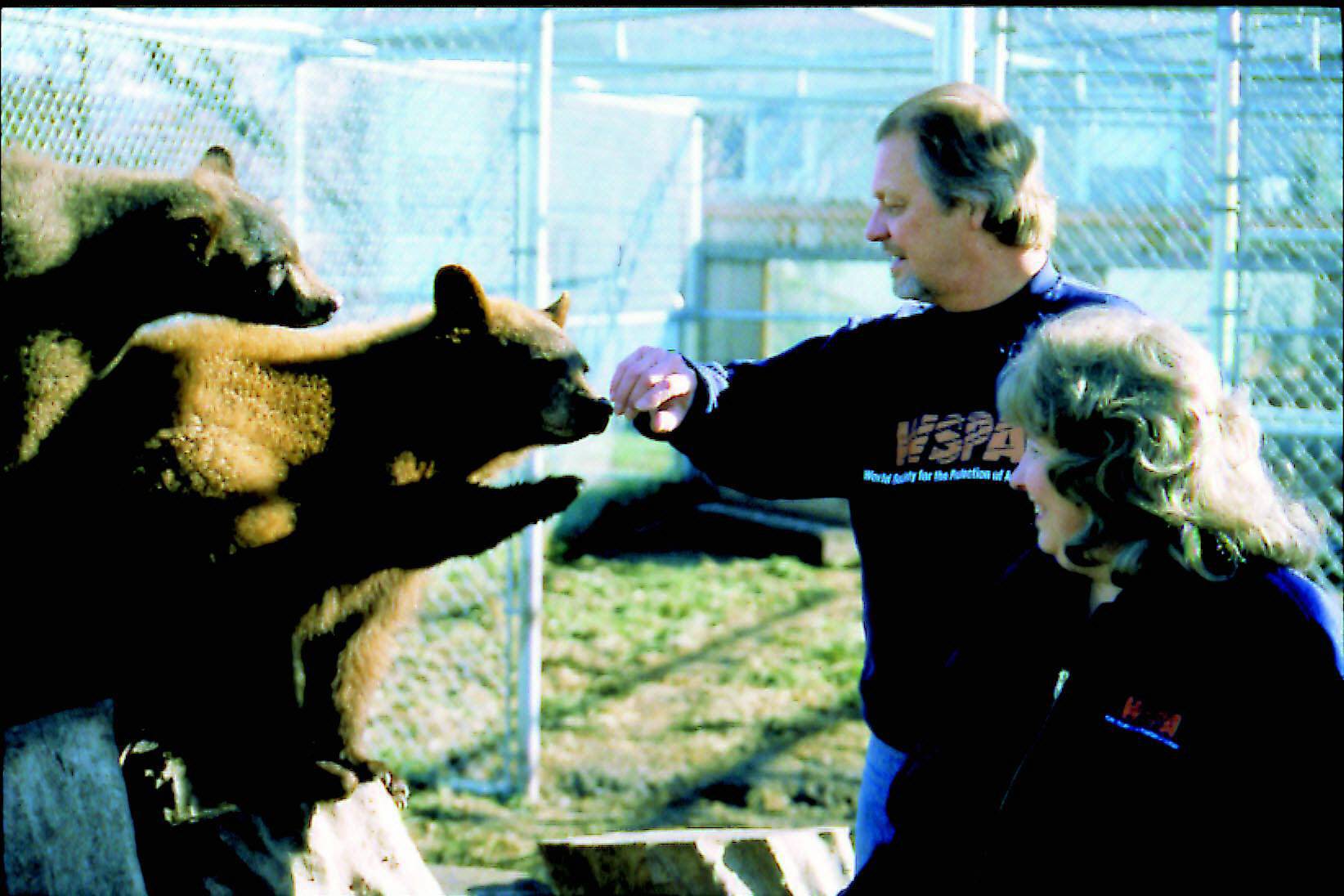 One of the major stress relievers in my life is music. Although I like most kinds of music, when I first heard David Soul sing on the series Starsky and Hutch, I knew I'd heard something special. I'm one of those people who can listen to a song all day long for months and never tire of it.
As with most jobs, there are moments of high stress. I discovered that his music not only helped lower my stress level, but it also seemed to calm the animals. I work with both bears and coyotes. Coyotes stress so easily so I began to play his music before treating an injured coyote. It worked! The coyote remained calm and what I needed to do happened without much problem. Orphaned cubs grew up listening to his music right along with me. While I worked, his music played and the cubs slept, ate, and played along with the music.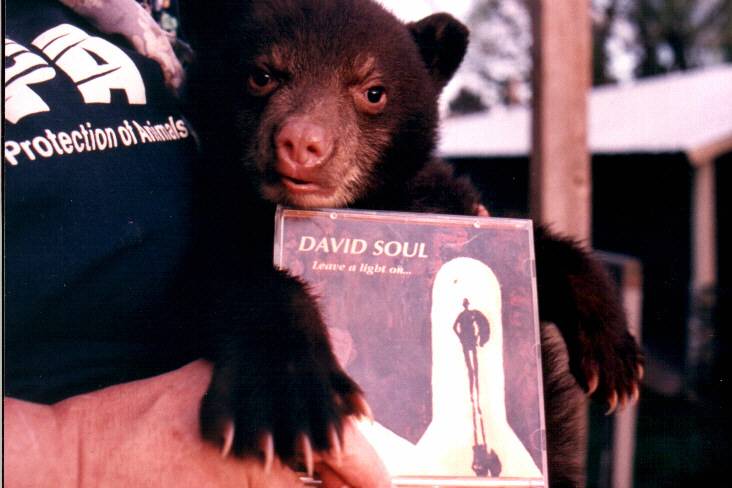 During the first five years of the program, I spent thousands of hours observing the cubs at all times of day and night, at all times of the year, and during all kinds of weather. David's music is what kept me going during that time. Days were frequently 20 hours long and weariness was quick to set in. It was tempting to just give up, but I so enjoyed the music that it held me there. Little did I know then how valuable that observation time would be to the validity and credibility of the bear program, not to mention the rehab process as it developed.
When it came time to do a training video, I decided the only one to narrate that video would be David Soul. I wanted the best for the bears and he was the best and all the bears had grown up listening to his music. I sent David a letter asking him if he would let me use some of his music and if he would consider narrating the video. As a surprise to me, WSPA (World Society for the Protection of Animals) brought David over from England where he is working. David went with us on one of the winter dennings. Since then David has been a strong supporter of the bear program. He is a good friend with a kind heart. He has done much to help spread the awareness of helping orphaned cubs and is always there to help if he can. We completed filming of the training video in 2005 with additional footage filmed in spring of 2006. Sadly due to circumstances beyond either David's or IBBR's control, David wasn't able to narrate the training video. WSPA completed the project and has since released a DVD on bear rehab. In the spring of 2008, IBBR began working on another short video. When finalized and subject to David's approval, we will use the video for lectures, education programs, special events, fund-raising opportunities, and to educate the general public about the plight of orphaned cubs. David graciously gave permission to use some of his music on the video. Of course the cubs are fans of his music having listened to it during their initial stay in a kennel in Sally's house. David's support for these orphaned cubs has been invaluable.